back to posts
Cycling the North Sea
2019-07-15
During the last week of June and the first week of July, I cycled from Oslo to Copenhagen. It was fun!
My route mostly followed the EV12 cycle route, which runs along the coast by the North Sea all the way from Bergen to Shetland (the last couple of hops are joined by taking a ferry). I brought my bike on the plane, arrived in Oslo on the Saturday, and began on the Monday. I arrived in Copenhagen on the following Friday, 11 days and 500 miles later, before returning home.
Oslo is a lovely city. I was staying in Ekeberg, which happens to be about 150m higher above sea level than the central train station where I arrived. Cycling there on Saturday evening was a sort of trial by fire.1 Beside the road, there was a small but steep path up this hill, which had placards detailing the geological history of Ekeberg, and how the ice sheet had been pushing down the hill, but in the last 10,000 years the ice had been melting and the land rising as the weight moved off it. The location of the inspiration for Munch's The Scream was about halfway up the path. It was marked by a recent art installation, of a frame through which to look at the city, and the suggestion to scream. I decided not to do so.
Given it was just past Midsummer, it didn't really get dark in Oslo. You could read a book outside at midnight with no problems. I usually find that I can get to sleep easily when it is quite light, but I did have some trouble here. This got better as the fortnight continued, both because I was moving to lower latitudes and because I was tiring myself out more.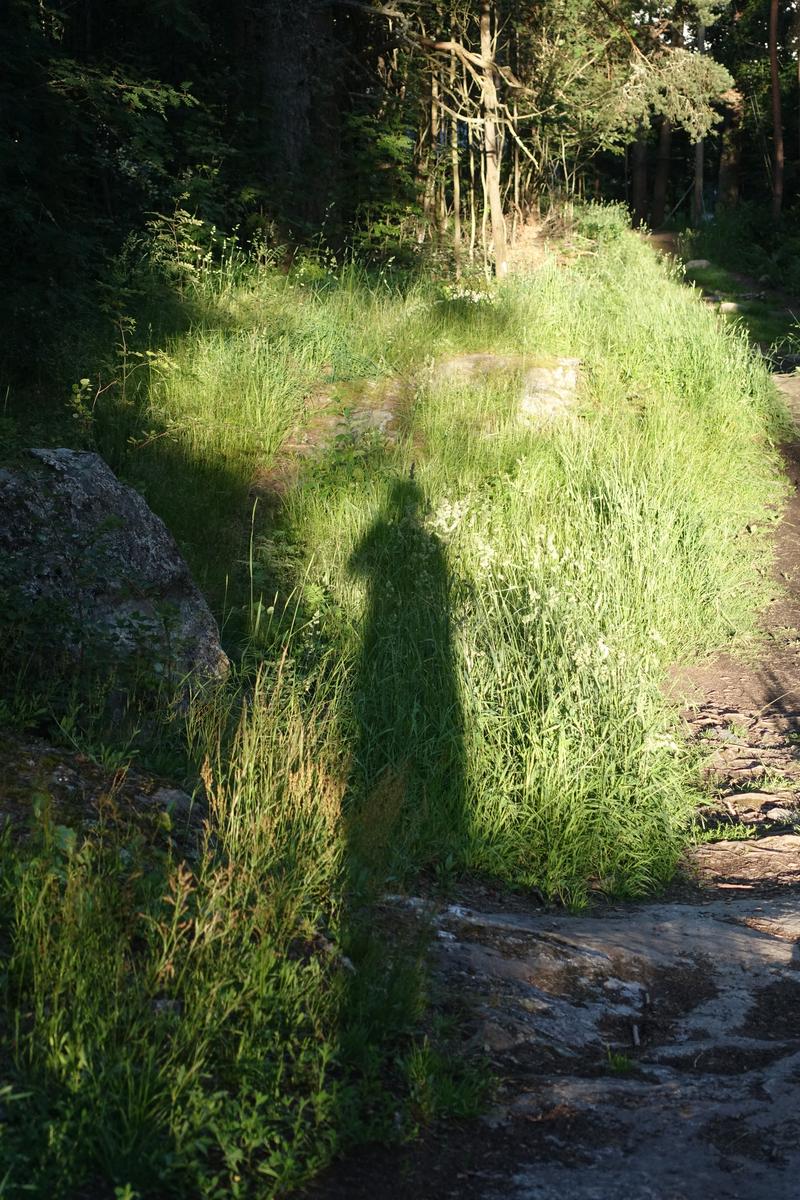 Fieldfares were the thrush quotidien in Norway (and in fact in Sweden, and in Copenhagen!). I had only seen them on two occassions in the UK; here, they massively outnumbered blackbirds. They were behaving similarly to how I would expect a blackbird to.
I cycled to Moss and Jeløya on the first Monday, and pitched camp. This was a hammock underneath a basha - easy enough to set up and fall asleep in. When I woke up, my shoulders were covered in mosquito bites. They didn't hurt too much, and with an antihistamine they didn't itch too much, but really what else could I do but strike camp and start cycling? I looked on a map for a café to stop at somewhere on the route - I found Manstad - but about 2km up the road I saw a roadsign with the "swimming" icon, and the café didn't open for another half an hour. So I had a little dip in the sea first. It was surprisingly warm. I had a little pootle out and back from a floating raft (anchored to the sea bed), with a short time on the raft being quietly contemplative.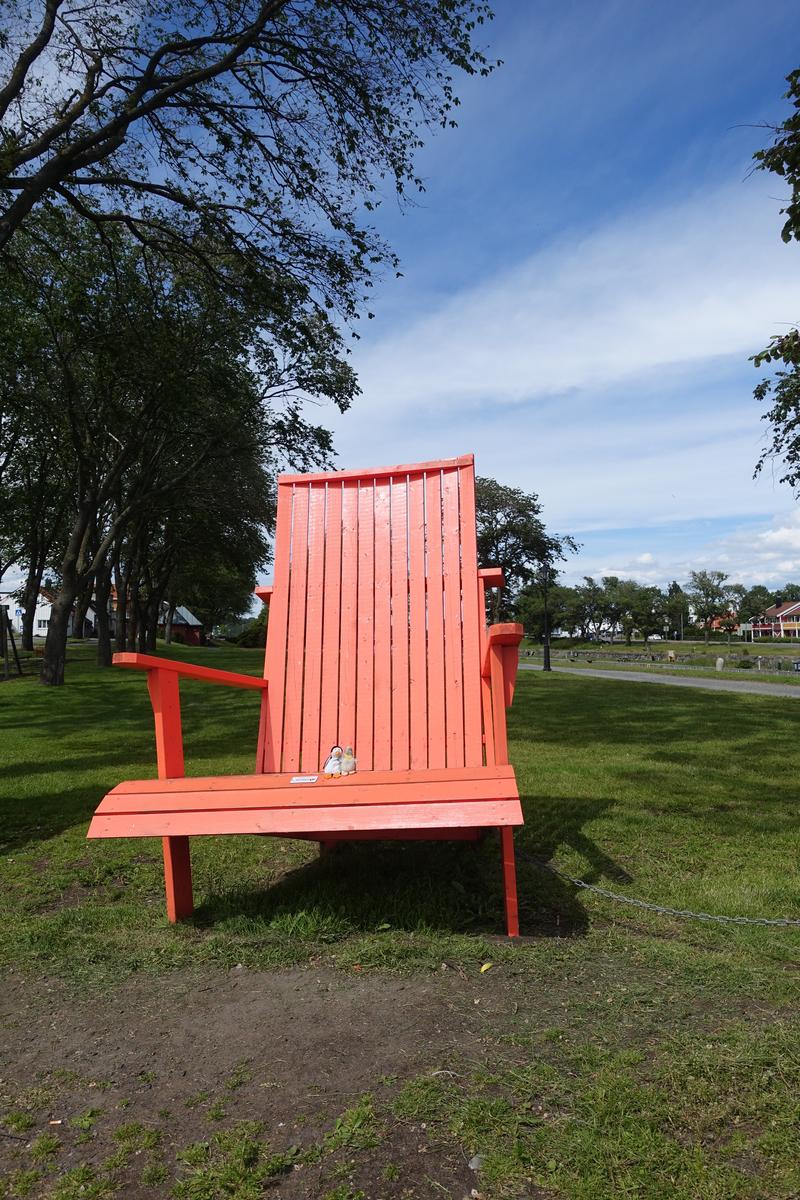 Further on, the route involved following a road with a speed limit of around 70kmph. This was generally fine, but it was nicer to be taking smaller roads and paths where possible. The route signs had been okay up until now, but at some point I lost them. I knew that I could continue in the same direction as the main road and I would end up in the right place, so that was my general strategy. At one point, checking my map, it looked like there was a road that cut off a corner to the main road, so I decided to take it. 200m in, the road became a dirt track. 100m further along and having lost 10m of height, it became a horse track, or possibly not a track at all. Loose dirt and sand, large stones - these are terrible things when you have a lot more weight through your back wheel than your front. I'm surprised I managed to keep cycling, but I didn't fall off, and I continued onwards. I found a farm, and a man fixing a tractor. I stopped and asked if the track further on was the same as what I had just crossed. His English was not great, but he suggested that it was better up ahead. I continued, and unfortunately I found his words to be inaccurate, as this terrible path just did not become any better. Eventually, a large boulder stood in the middle of the track, which would stop any vehicles getting through. But on my bike, that was no obstacle. Ah, but the track now constituted large pebbles and a steep decline. At this point I was in for a multiple pennies and multiple pounds, so I carried on. Carefully and slowly (and I imagine with super-heated disk brakes) I descended the slope and rejoined the main road. The lesson to be learned here is that the main roads are good enough to cycle on and shortcuts might want a bit more investigation next time.
Later in the day, I saw signs for the Steinringfeltet, about which I knew nothing. But it was time for a break, so I decided to follow the directions - they led about 100m away from the road, with a (this time considerably shorter) small off-road section. I came upon 9 stone circles in the same field. I took a picture of myself in all2 of them to send to Carrie. I think she would have finished her "visit \( n \) stone circles" challenge in a single day had she been there.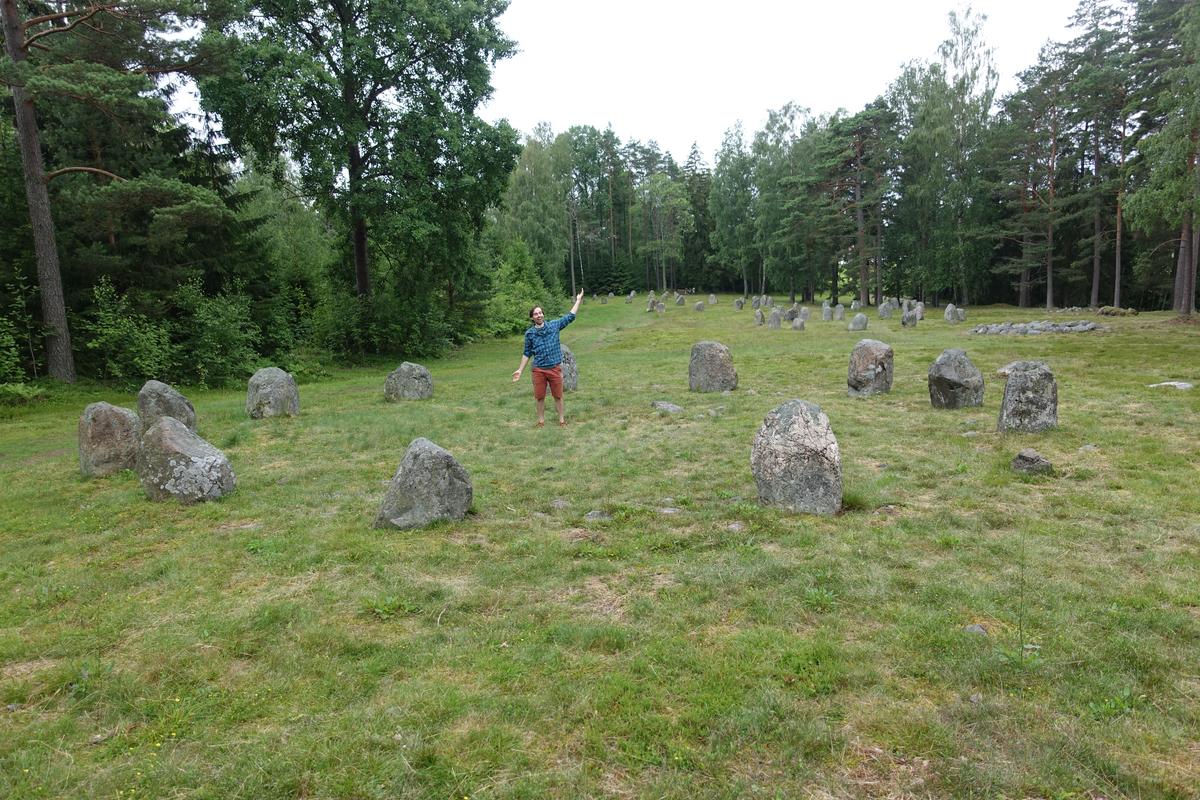 Tuesday's cycle ended in Halden. When I arrived, it had started raining quite a bit, and I decided that perhaps I didn't want to camp. So I found hotel, got in the shower, and thought that, maybe, I'd rather not camp in general. (I embarked on the journey with this general opinion, but the Monday evening did a good job of reminding myself of it.) This was the best decision I made on the trip. I went to Airbnb and found some places to stay along the way. This made each day's cycling clear - I had to get to the next place, else I would have wasted my money and needed to set up camp again. The right to roam is great, but it does require finding somewhere you'd want to stay. For me, this selection always ended up rather limited.
In Halden, for some reason I decided I should climb to the fortress. It was steep, and huge. I was walking up and down and around for almost 2 hours, and I think I saw perhaps half of it. My cycling fatigue kicked in after about 90 minutes, but it took another half an hour to find a route back down the way I came. Wednesday was a 120km cycle to just outside Munkedal, and a lovely little cabin in a place called Brålands Gård, followed by a marvelous rest day on Thursday. I put the rest day in in just in case Wednesday's cycle took it out of me - my legs cramping up, or getting sunstroke, or ill, or anything else. As it was, I felt great, but the days with a change of pace were some of the best parts of the trip. I found my mind was kept sufficiently distracted by cycling and navigating for 8 hours that the hours and days between that held a much higher rate of interesting trains of thought than normal. Friday's cycle was about the same distance again, this time into Gothenburg, specifically Kortedala. By Friday, the wind had started picking up, though the sky remained clear. The final kilometre into Kortedala was hellish - unbelievably steep, after a long day against the wind and in the baking sun, with 20kg of stuff attached around my rear wheel. This was the only hill that I didn't manage to cycle up on my journey. But I arrived, had my requisite shower, and stumbled down the road to find sustenance.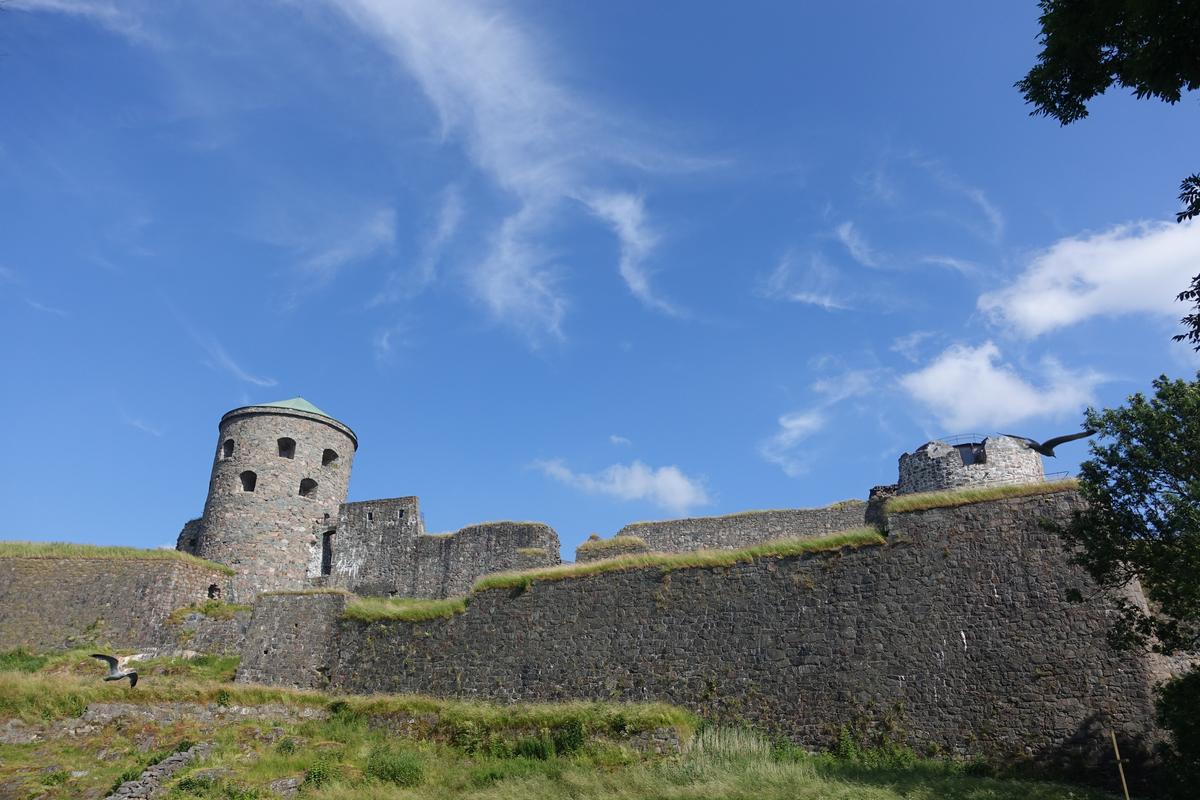 Gothenburg is a lovely city, too. On Saturday I took the tram to Saltholmen to get a ferry, with the intent of trundling along a short walk along the islands; I alighted at Donsö and walked along to Styrsö (across a bridge!). I filled the rest of the day wondering around the centre, trying to find things to take photographs of. Again, I foolishly climbed the tallest things I could see, which in this case was the Skansen Kronan. On Sunday, I took tram number seven to the centre, where I took part in a guided walking tour, which was superb. I followed this by walking to Slottsskogen, a beatiful park, and then into the botanic gardens. This was the hottest day of the year in Sweden so far; I was basically melting. I stopped to sit down and rest about four times on my way to the café in the gardens. My brain wasn't working well. After finishing my drink, I decided I should head back to the place I was staying and prepare to depart the following day.
If the first week was characterised by the hills, the second was characterised by the wind. It was strongly against me (sometimes just across me) most days. On one day, there were portions of my route that went to the South, the East, the West, and the North; in each direction, the wind seemed to be pushing against me. Not only that, but my chain was rubbing quite badly, and I didn't pack any sort of lubricant for it. Perhaps I should have asked nicely at a cycle shop.
Notably, the signage improved considerably after Gothenburg - the EuroVelo website suggests that the route from Gothenburg to Varberg is "complete", but the route further North is merely "under development". This part of the route is the Kattegattleden, and it instantly reduced the amount of time I spent navigating to almost zero. There was however a bit of a shock to the system restarting the cycling on the Monday morning. My Achilles' heels were feeling a bit overworked - I deduced that my saddle was probably a bit higher than it should have been, and adjusting it downwards made my heels feel a world better.
Monday's ride was a short one, to Åsa, a small town with some sandy beaches. The wind had not abated, and by the time I arrived and went on a wander the waves were picking up considerably. I was staying with Maria and her lodger Zarif, a refugee from Afghanistan. He had been in Sweden for 4 years, currently working as a carer alongside studying, but because he had not obtained a visitor's permit he was at risk of just being chucked out at any moment. Some of his friends had made it to Finland, where they had obtained a permit to stay. What a crazy world! How fortunate I have been!
On Tuesday the wind was finally on my side, as I made my way to a small village just outside Halmstad. The guesthouse I was in had been put together well, and the owner Mats was a lovely and kind chap, eager to help look after me. I was feeling slightly brain-dead on the Tuesday evening, and the only DVD in the guesthouse in English was Harry Potter and the Goblet of Fire, which I have seen before and is not normally the type of thing I would elect to watch. It was a reasonably well done film that scratched the itch I had at the time. Wednesday was a rest day, so I had a bit of time to myself, and I had a small cycle into Halmstad for a hot chocolate and a cake.3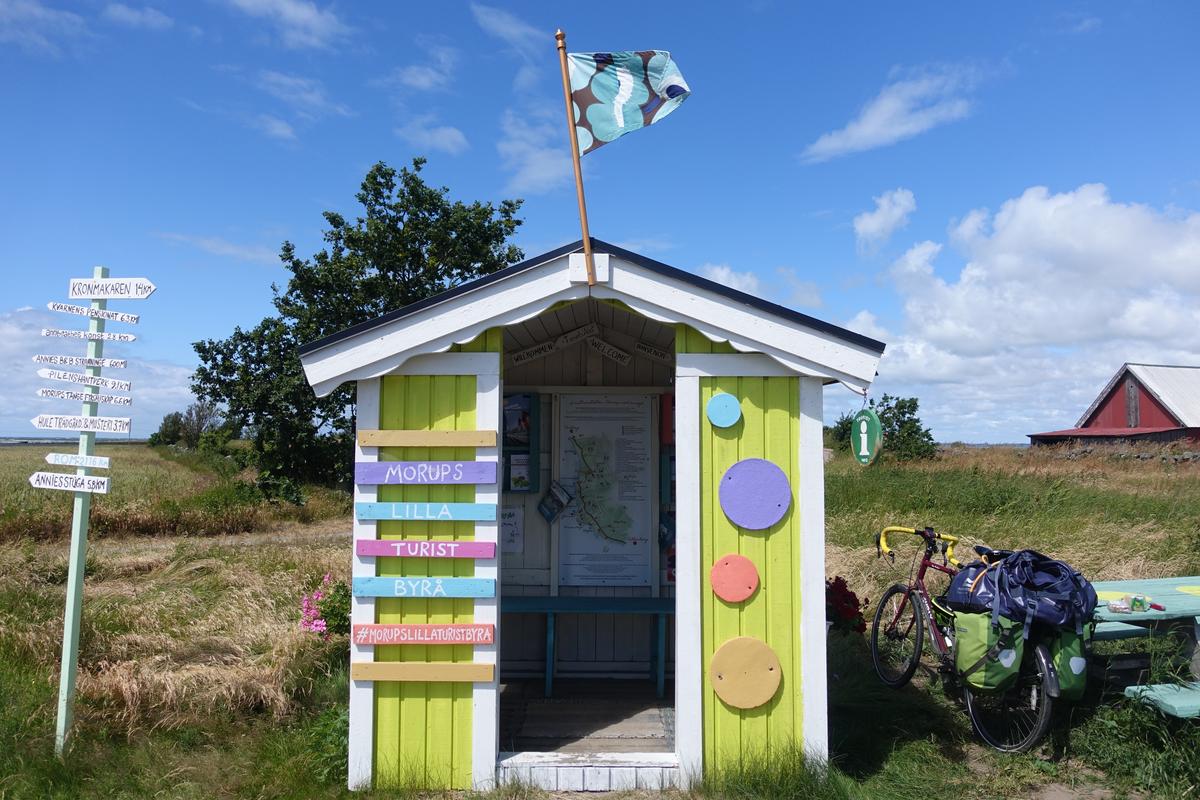 Thursday brought me to a small village just outside Helsingborg, where I would then take a ferry on the Friday. It rained and rained and rained on Thursday, with a strong crosswind in the mix too. In addition, there was one final hill on the Kattegattleden, which the route planners had decided you needed to experience as much as was possible. I made it up the hill, but it was the steepest I climbed, and I did have to stop twice on the way up to catch my breath. My hosts were just lovely in the evening - the village did not have any restaurants or shops, so when I turned up damp to the bone, the lady offered some of the dinner she was cooking for her and her husband. I gratefully accepted, and over dinner we chatted about a lot of things, including food co-operatives - their son had started one, and they had been getting all of their food from it, all sourced from close-by. It's a bit of a step beyond the veg-box we've been getting in Cambridge.
I imagined Friday a bit like the final stage of the Tour de France - the outcome is decided, so just put the miles in and relax. The weather was sunny again, with a light breeze. I timed getting the ferry perfectly - I was last on before it departed, and I was first off in Helsingør. I chatted with a man who was travelling to a motorcycle convention in Denmark, with a bike about as old as my parents. In Helsingør I spent a small bit of time approaching and walking around the outside of Kronberg castle, before beginning the 50km following the coast to reach my destination, just South-West of the centre of Copenhagen. I was really starting to feel the fatigue by now, combined with a chain in need of oiling, but the paths were good and only a small amount of navigating was needed in Copenhagen to reach my target. What a difference there is between cycling in Cambridge and cycling in Copenhagen! Not once did a driver get too close, or accelerate wildly to overtake. Half of the width of the roads was taken up by cyclepaths, often raised above the main carriageway. So many lessons we could learn here, but so little political desire to create a haven for cyclists as exists there.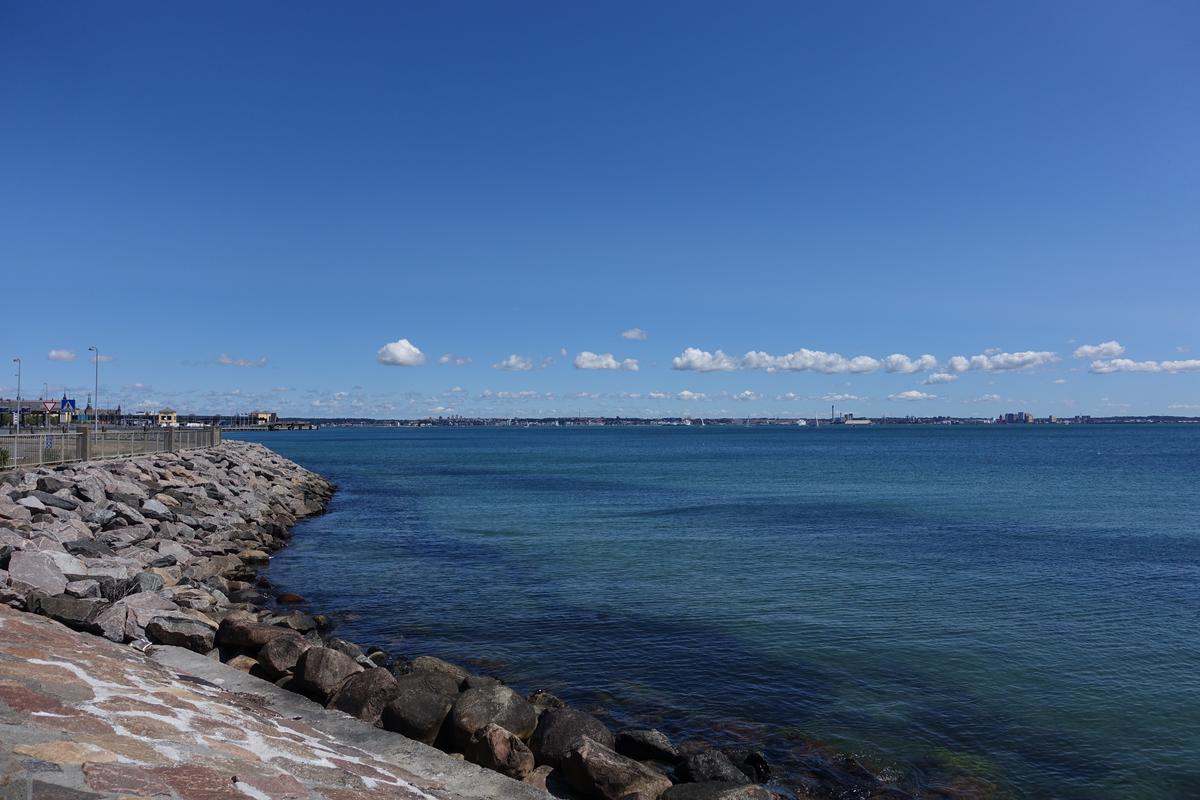 I ended up not enjoying Copenhagen as much as the other cities I passed through. I've put this down to getting drenched twice on Saturday whilst exploring the city, and having run out of energy quite comprehensively. I cycled around the centre and across the canals, then walked around the National Gallery, before finding a café. There I flopped into a chair and decided that perhaps I should find where dinner was coming from and go and lie down. I would happily revisit Copenhagen - I think there is a lot to it that I did not manage to see - but not at the end of a long excursion.
I had an amble around Valbyparken on the Sunday - a 5 minute walk from where I was staying - and it was a peaceful green space, with some interesting enclosed circular gardens with different themes. I think some of the details of the different circles - 18 in all - were lost on me due to my poor (nonexistent) Danish. Then I cycled to the airport, dismantled my bike, and got on a plane. I made it home just after 9 p.m., and then went to work the next morning - allowing myself the luxury of driving in. I think I had earned it.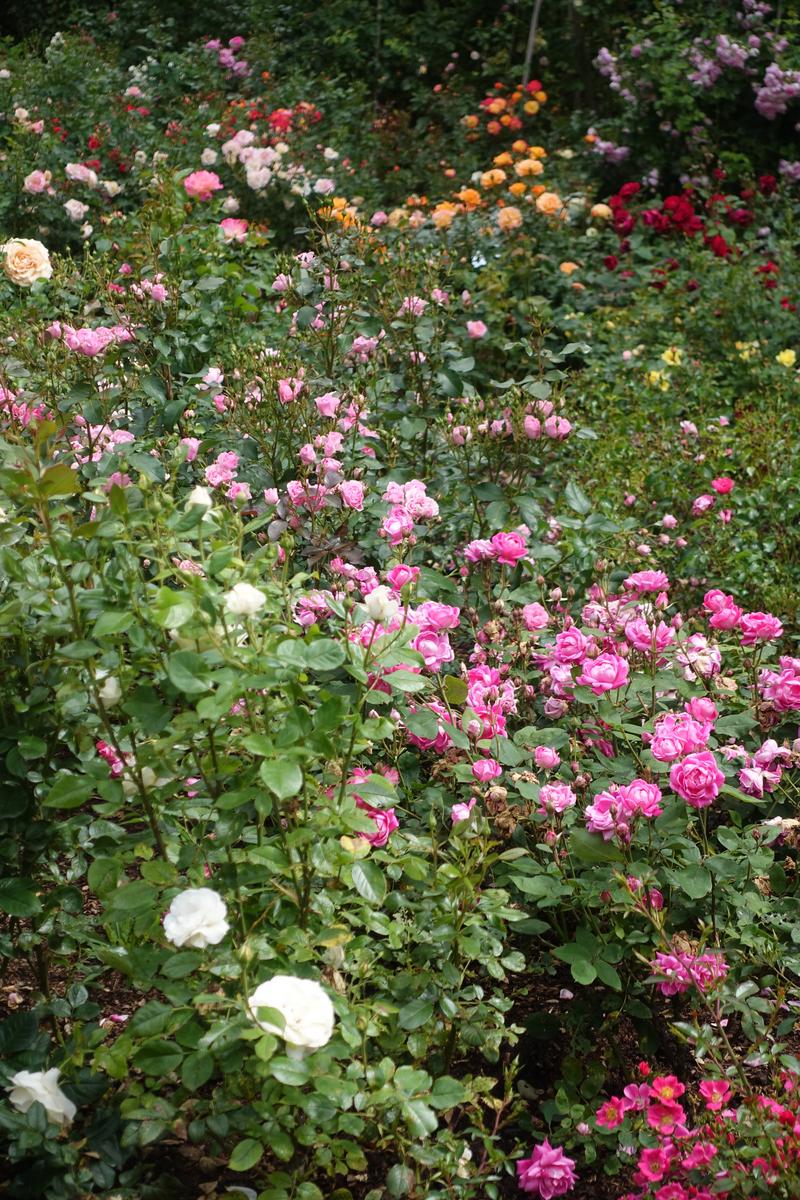 Interesting birds (that is, unusual for me to see) that I saw on the trip included:
Fieldfare
Nuthatch
Grey wagtail
Golden eagle
Curlew
Spotted flycatcher
Goldeneye
Kingfisher
Red-breasted merganser
Whitethoat
---
A friendly Mancunian I met, who was running a bike shop called 'Viking Cycling', told me the 1993 World Cycling Championships were held here, and they cycled up that hill. From this video, it looks like they cycled down it at least. ↩︎

I did this sequentially, so that in the background of the third photo you could see the stone circles from the first and second photos, etc. This was neat, but did involve sprinting between them after setting my camera on a delayed shutter. This would have been a great use of the remote control feature of the camera, but the WiFi Direct network did not want to stay connected at the distances I needed it to. ↩︎

I think just about every café I went to had some sort of gluten-free option that looked tasty. Given I have only recently been trying to cut out gluten, this was a pleasant surprise! ↩︎